Eyes:
I covered up my eyebrows using a glue stick like in my previous
Halloween look
and drew on some evil brows with gel eyeliner.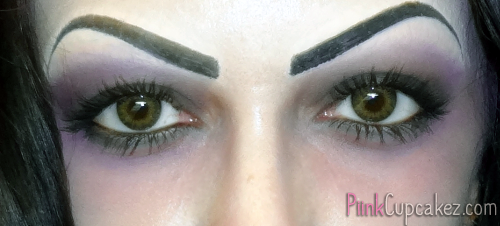 The eyeshadow was super easy!
Apply a black eyeshadow to the eyelid and lower lashine. Then, sweep it into the crease as well.
Blend a purple eyeshadow all around the eye and fade it down towards your cheekbones.
Place a matte white eyeshadow under the brow.
Apply mascara/false lashes and line your waterline with black eyeliner.
Face and Body:
Apply a white face paint or a much lighter foundation to your skin and set with a powder.
Contour your face mixing the same colors you used on the eyes.
Draw an exaggerated widow's peak with black eyeliner.
Draw a spider web from chest to neck. Then, lightly shade under each curved line with a black eyeshadow.
Create or accentuate your cleavage by drawing a V shape with the two eyeshadows and blending it out.
Lips:
Covered the edges of your lips with the same foundation or paint you used. Then draw out your desired lip shape with a dark lip liner and fill them in. Apply a dark lipstick over that and then blend black eyeliner in the center for a creepier look.